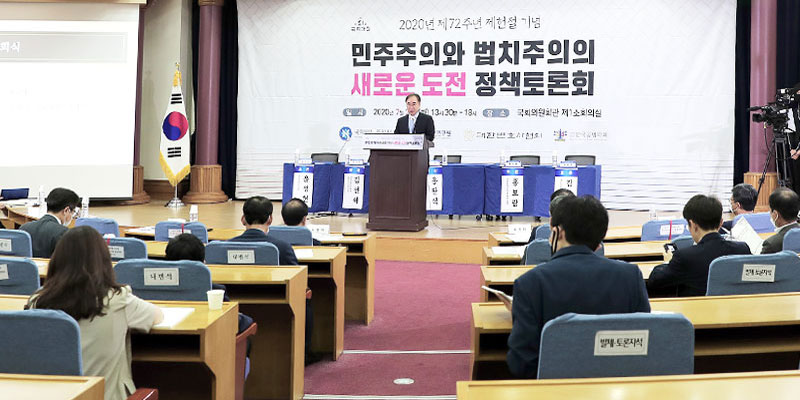 On Tuesday, July 21, the National Assembly Research Service (NARS) co-hosted a policy discussion titled 'New Challenges to Democracy and the Principle of the Rule of Law' with the Judicial Policy Research Institute (JPRI, President Hong Kitae), the Korean Bar Association (KBA, President Lee Chan Hee), and the Korean Public Law Association (KPLA, President Lee Wonwoo) celebrating the opening of the 21st National Assembly and 72nd anniversary of the Constitution.

Park Byeong-seug (National Assembly Speaker) during his congratulatory address noted that "I think a legislature should be a legislature, a judiciary should be a judiciary, and an executive should be an executive," and added that "It is a shame if the National Assembly, which should be bringing people's different opinions together, cannot resolve a matter on its own and take it to the judiciary." He also emphasized that "The judiciary should be wary of controversy over impartiality of the judiciary and the executive need to firmly take its place based on expertise and accountability." Speaker Park went on to say that "As democracy and the principle of the rule of law are the two most important pillars of modern state building, I hope that this meeting will serve as a platform to discuss how to understand and compensate for these principles in light of the changing times."

The opening session comprised congratulatory addresses by Speaker Park Byeong-seug and MP Joo Hoyoung (Interim Chairman of the People Power Party), an opening address by Kim Ha Joong (Chief of NARS), and welcoming addresses by Hong Kitae (President of the JPRI), Lee Chan Hee (President of the KBA), and Lee Wonwoo (President of the KPLA). Presentations and discussions then followed.

Hong Wansik (Professor, Konkuk University Law School) presided over the first session, 'Parliamentary Democracy and the Principle of the Rule of Law,' with a presentation delivered by Kim Seonhwa (Director, Political and Parliamentary Affairs Team). Hong Boram (Researcher, JPRI), Kim Kwangjae (Lawyer), and Yoon Sunghyun (Professor, Hanyang University Policy Department) took part in the discussion.

Jung Ho Kyoung (Professor, Hanyang University School of Law) presided over the second session, 'Independence and Accountability of the Judiciary,' with a presentation given by Kim Donghyun (Senior Researcher, JPRI). Lee Yongjae (Lawyer), Kang Ilshin (Professor, Kyungpook National University Law School), and Bae Junghun (Legislative Research Officer, NARS Legislation and Judiciary Team) took part in the discussion.

Yeo Woon-Guk (Vice President, KBA) presided over the third session, 'Experiment of the Public Debate Committee in the Administration Process: Achievements and Challenges,' with the session's presentation given by Kye In-Guk (Professor, Korea University Department of Public Administration) and discussion provided by Kim Bong Chul (Researcher, JPRI), Kim Eun Joo (Professor, Jeju National University School of Law), and Choi Jeong-In (Legislative Research Officer, NARS Legislation and Judiciary Team).

These sessions were followed by general discussion from the floor, which was presided over by Chang Cheoljoon (Professor, Dankook University Department of Law) and which provided in-depth discussion of the topics.

During the seminar, experts and academics shared their thoughts both on how democracy and the rule of law play a new role in the legislative, judicial, and executive branches of government, and on related institutional improvement.
---