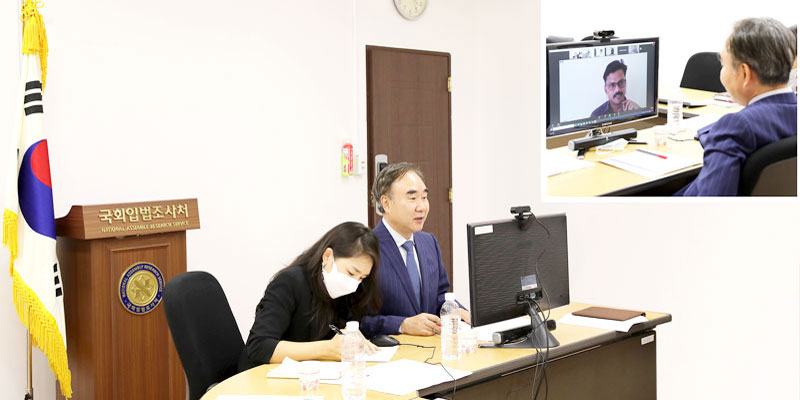 On Monday, September 14, 2020, the chief of NARS spoke to numerous leading young scholars of constitutional studies in a lecture that covered the Constitution of the Republic of Korea, changes in the status of the National Assembly with the country's development of democracy, and how the National Assembly is building on expertise with the support of NARS.

'Global Youth Intensive Program for Leading Scholars' is a program sponsored by the Korean Association of the International Association of Constitutional Law (IACL). The Korean Association of the IACL hosts this program annually. Centering on developing countries, participants share and learn about South Korea's legislative system. However, due to COVID-19 pandemic, this year's program was conducted online. Eighteen scholars representing Taiwan, Brazil, Colombia, India, Kyrgyzstan, Mexico, and the Republic of South Africa took part in the program.

During his lecture, Kim Ha Joong, Chief of NARS, described the characteristics of the Constitution of the Republic of Korea, the National Assembly in the history of the Constitution, and the structure and functions of the Assembly. He also specified how the National Assembly Research Service is doing its duty for the legislature by increasing its legislative capacity and expertise since the role and authority of the National Assembly has enlarged with democratization.

Following this lecture, participants raised questions concerning NARS's benchmarking (of the U.S. Congressional Research Service [CRS]), adherence to the principle of confidentiality, and Korea's low ratio of proportional representation, among others.

In response, Chief Kim Ha Joong said that NARS has benchmarked the CRS in its founding, especially with relation to the establishment of principles of conduct—which are expertise, confidentiality, objectivity, nonpartisanship, and timeliness. Although NARS and CRS share common working principles, unlike the case of the CRS, NARS is an independent organization and an entity separate from the National Assembly Library.

With regard to the question of confidentiality, Kim highlighted that while one of the major duties of NARS is to respond to legislative research requests from the National Assembly members, when conducting research, NARS ensures confidentiality by protecting the member's idea for legislation, provides expertise, and maintains objectivity. He also added that when it is necessary to disclose information on social issues of public concern, NARS publishes relevant, publically accessible reports on the issue.

Although this year's program was online and contact-free, participants showed great interest in its contents and wrapped up with the hope of conducting in-person meetings in the future for greater information sharing.
---