Chief's Message
Greeting
"As an independent legislative research arm of the National Assembly, we promise to become the trusted legislative think tank by providing sources based on expertise, nonpartisanship and confidentiality."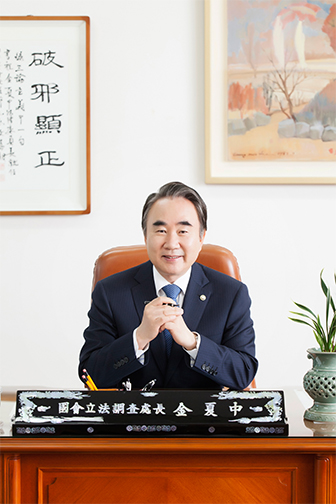 The National Assembly Research Service (NARS) was founded in 2007 as an independent research agency to strengthen the National Assembly's legislative capabilities and policy development capacities. NARS is the only research arm of the legislative assembly in Korea which covers all subject areas of state affairs.


To offer the highest quality of policy analysis, we take a multi-perspective approach in our examination of issues, upholding the principles of nonpartisanship and confidentiality in the conduct of our research investigations.


NARS provides members of the National Assembly with essential information to assist them in their legislative activities and oversight of the executive branch. We also initiate research and analysis on major state affairs and assist members in offering seminars and forums in order to facilitate subsequent political and public discourse.


Proud of our accomplishments ― as we have responded to over 65,000 legislative research requests, published 2,634 reports, and held 410 seminars ― NARS will continue to support members of the legislature and ensure that the National Assembly functions as a representative body of the people and furthers the promotion of democracy.


As NARS prepares itself to meet the challenges of our fast-moving, interconnected and transforming world, we trust our capabilities and experience will enable us to provide expert, impartial, and systematic inquiry into subjects of concern to the legislature and the nation, strengthening our role as a dependable think tank of the legislative branch.


We deeply appreciate your ongoing interest in and support of NARS.
Thank you.
Kim Ha Joong
Chief of the National Assembly Research Service