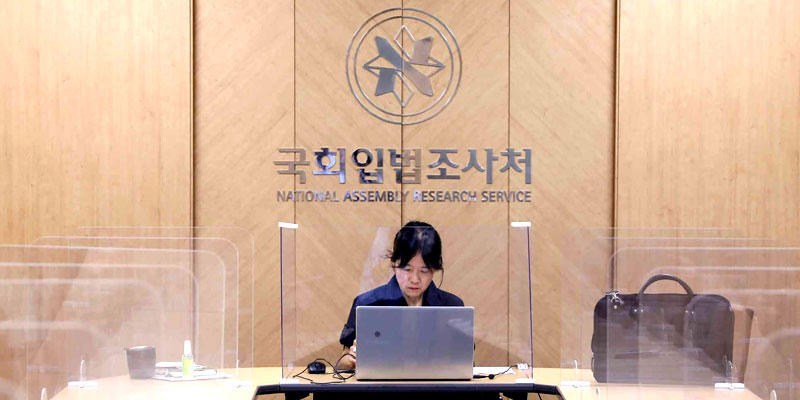 On Friday, September 10, Foreign Affairs and National Security Team of the National Assembly Research Service (NARS) hosted an expert meeting on "The Current Status of Korea's Public Diplomacy and Future Tasks." The meeting was held to discuss the current status and problems of Korea's public diplomacy. Kim Tae-hwan (Professor, Korea National Diplomatic Academy) gave a keynote speech and Han Intaek (Director, Jeju Peace Institute), Choi Ajin (Professor, Yonsei University), and Lee Minhong (Director, Public Diplomacy and Cultural Affairs Bureau of Ministry of Foreign Affairs) each gave a presentation on public diplomacy policies and shared their ideas.

Professor Kim kicked off the meeting with his keynote speech, "Evaluating the Current Public Diplomacy of Korea and Future Direction." Professor Kim pointed out that while the existing public diplomacy gave influence on and engaged in foreign publics to meet the country's foreign policy goals and contribute to national interest, today's diplomacy should be about establishing and expanding sharing through interaction (i.e., communication, interaction, relationship building).

Director Han highlighted the importance of 'customized public diplomacy', and added that it is necessary to understand the target country and build a customized business model. Moreover, while the public diplomacy toward the United States was rather focused on think tanks in Washington and university campuses, it should expand to US states and cities and ultimately should employ digital public diplomacy.

Professor Choi proposed a number of solutions as a way to improve public diplomacy: integration of public advocacy and cultural public diplomacy, shifting the target from elite and experts to general public, sharing interactive values and interests, expanding budget, developing evaluation system, building a domestic consensus, increasing the role of private entities, expanding target countries and regions, and so forth.

Director Lee introduced the process of legal and institutional foundation of public diplomacy since the declaration of the year 2010 as the first year of Korean public diplomacy. He pointed out the redundancy of business structure of public diplomacy and lack of budget as the major problem. He then went on to argue that the public diplomacy committee needs to strengthen its rights and expand its budget.

Through this meeting participants agreed that public diplomacy is rising as a main pillar along with political affairs and economic diplomacy. So to create a positive image of Korea and for Korea's policy to gain support in the international stage, it is necessary to continuously develop related strategies and policies. And as domestic consensus on policy and bipartisan discussion and support are necessary, the National Assembly's engagement and efforts are crucial for Korea's successful public diplomacy.
---