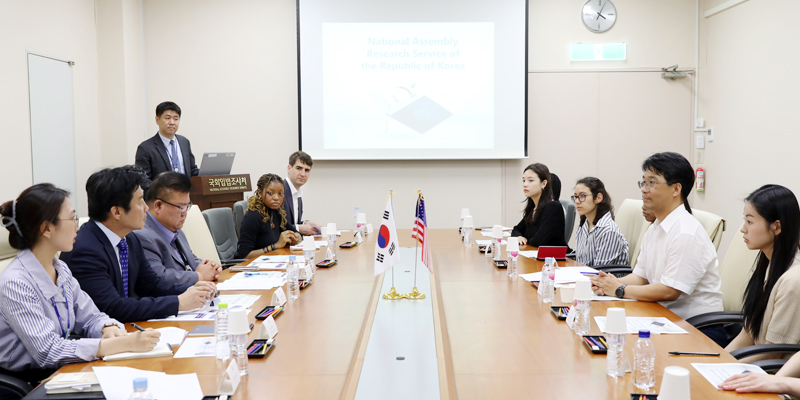 On June 13, 2023, a student delegation from George Washington University's Institute for Korean Studies (GWIKS, Director Kim Jisoo) visited the National Assembly Research Service (Chief Park Sang Chul). During their two-week program, Deputy Director of the GWIKS Kim Yonho and 10 students visited key institutions in Korea, including the NARS. The delegation met with Speaker of the NARS, Kim Jin Pyo, and later observed Korea's legislative process in motion.
Dr. Park Sang Chul, Chief of the NARS, welcomed the delegation and explained that legislation falls within the realm of science, emphasizing the necessity of professional support to create better laws. In that regard, he pointed out how the Congressional Research Service (CRS) and the National Assembly Research Service (NARS) fulfill such roles for the US Congress and the Korean National Assembly, respectively. Yoon Sang-yeol, Director of Planning and Management at the NARS, then introduced the NARS and its major responsibilities. This was followed by a lively question-and-answer session that covered topics such as legislative inquiry responses, collaborative research with other organizations, legislative impact assessment, and international exchange activities.
Deputy Director Kim expressed his gratitude for the hospitality and requested continued interest in actively fostering Korean studies at the George Washington University, where Rhee Syng-man, the first president of the Republic of Korea, and Lee Kun-hee, former Chairman of Samsung, once studied. Chief Park introduced the efforts on the parliamentary level to establish the Korea-US Parliamentary Association and emphasized the need for reciprocal exchange and cooperation between the two countries' think tanks. Both the NARS participants and the GWIKS delegation agreed to explore ways to establish a foundation for ongoing cooperation as a result of this visit.
Established in 1821, the George Washington University has shown a keen interest in Korean studies, particularly in the field of international affairs, and officially adopted Korean as a formal subject beginning in 1983. The GWIKS has operated under the support of the Academy of Korean Studies (AKS) since 2016.
---