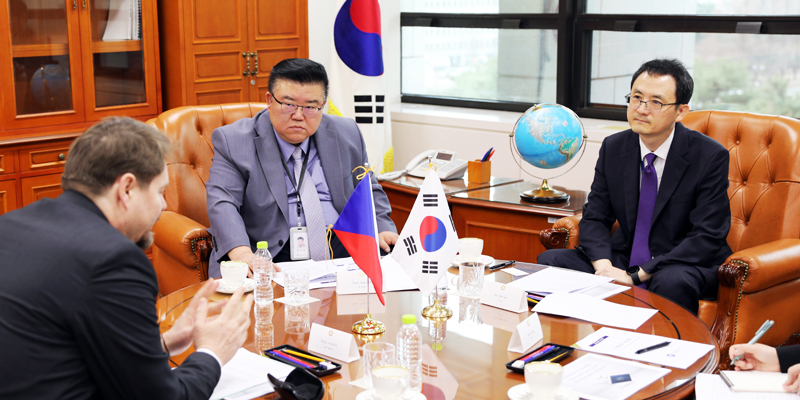 On March 23, 2023, Director Štěpán Pecháček from the Parliamentary Institute of the Chamber of Duties of the Czech Republic visited the National Assembly Research Services of the Republic of Korea (Acting Chief Lee Shin-woo) and had a meeting with the acting chief and other NARS directors.

This meeting was part of the visit of the delegation from the Chamber of Duties of the Czech Republic (Madam Speaker Markéta Pekarová Adamová). It was arranged to help enhance the relationship between the two countries' parliamentary research institutions.

The two sides exchanged ideas and shared experiences regarding parliamentary roles in preparing for the future, strengthening economic and budgetary analysis capabilities, and strengthening regulatory impact assessments, inter alia.

In particular, Director Pecháček introduced the recently established "Future Committee" in the Czech Republic Parliament and talked about the launch of a new economic analysis division in the Parliamentary Institute. Acting Chief Lee Shin-woo introduced the 4th Industrial Revolution Special Committee of the National Assembly and discussed recent reports on impacts of technological development. Planning and Management Director Yoon Sang-yeol showed deep interest in regulatory impact assessment methodologies and specific management cases.

Mr. Pecháček participated in the 2016 International Seminar for Parliamentary Research Services. He expressed his gratitude for the opportunity for both sides to communicate and enhance each other's capabilities. He also proposed preparedness for the future and regulatory impact assessment as agenda items to discuss for the next seminar.

The Acting Chief Lee expressed his appreciation of the director's proposal and responded that he will send an invitation once the date is set, since the NARS is planning to resume the seminar fully in-person this year.
---