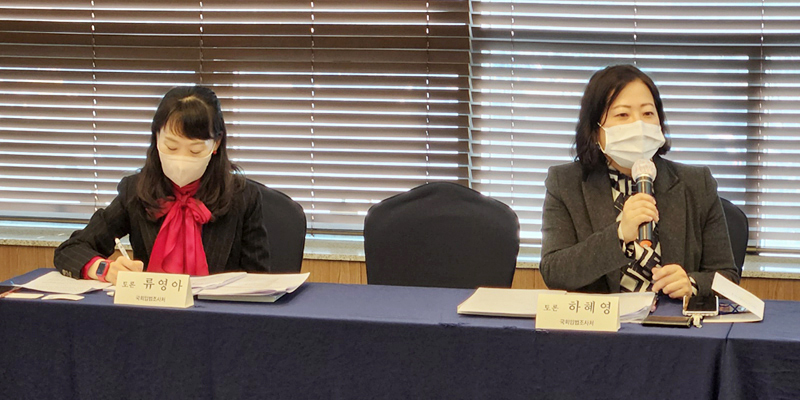 On November 11, 2022, the National Assembly Research Service (NARS) (Deputy Director Lee Shin-Woo) held a seminar jointly with the Seoul Association for Public Administration on the subject of 'Measures to Respond to the Age of Extinction of Rural/Local Communities' in the Athens Room of the Hotel Inter Bulgo in Wonju.

Participants to the joint seminar appraised the current status of rural decline and discussed specific countermeasures at a time of intensifying population concentration in the metropolitan areas along with the natural decrease in the population. The imbalance between regions caused by population shifts is becoming an issue and the sense of crisis of rural decline is growing. NARS has already held joint seminars and regional discussions related to rural decline in Namwon, Jeollabuk-do in August and Daegu in October, and held this joint seminar in Wonju, Gangwon-do in November.

The seminar was chaired by Professor Sung Si-kyung of Dankook University. In his presentation, Hwang Hae-dong (Associate Research Fellow, Korea Institute for Local Administration) conceptually reviewed the balanced national development policy, with a focus on population reduction and rural decline, while Bae Gwan-pyo (Professor, Chungnam National University) presented on the effective operation plan of a rural decline response fund. Designated discussions and general discussions followed.

In the first presentation, Hwang Hae-dong introduced key concepts related to rural, population, and regional decline in terms of balanced national development policy. In addition, it was emphasized that it is necessary to set policy directions and goals using interdisciplinary concepts in order to actively promote policies to respond to the extinction of rural communities.

In the second presentation, Bae Gwan-pyo introduced the government's attempt to mitigate the crisis of rural decline through its response fund, which has been in effect since 2022, and the distribution principles of the fund. In order to ensure the appropriate use of the fund, relevant Korean cases and issues that need to be considered were extrapolated in detail.

Following the presentations, Associate Research Fellow Chung Bo-ram (Korea Culture and Tourism Institute), Professor Lee Hyeon-guk (Daejeon University), Team Manager Ha Hye-young (NARS Public Administration and Safety Team), and Legislative Researcher Ryu Yeong-a (NARS Public Administration Safety Team) spoke as designated discussants. This was followed by questions from Professor Joo Seong-don (Myongji College) and responses from presenters and panelists, and then a general discussion.

This seminar served as the final of the three related joint seminars and regional discussions conducted by NARS in 2022, allowing for the sharing of opinions on the crises each region faces and on appropriate crisis planning and responses.
---